November 16-19, 2014
For four days the Australian Acoustical Society will be hosting inter.noise 2014 in Melbourne,
The Society warmly invites you to attend this thought provoking Congress "down under".
*********************************************************
CONGRESS NEWS
Internoise 2014 Full Paper Submission Date Extension
Due to numerous requests and the northern hemisphere summer holidays, the submission date for full papers for Internoise 2014, which are not being peer reviewed, has been extended until 15 August 2014.
Please note that there is no extension to the cut off date of 25 July 2014 for early bird discount registration.
If you must have your paper peer reviewed, please submit it as soon as possible to allow time for the review.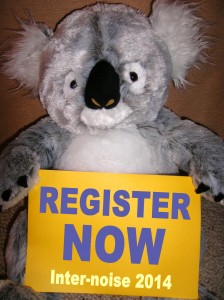 Registration for Inter.noise 2014 can now be made via this website.
Early Bird Registration closes 25 July. Please register before the cost increases.
******************************************************************************